The client detail page is a dashboard of your client's overall health. This page gives access to all advanced features, but most often you will go right to the Dispute Wizard.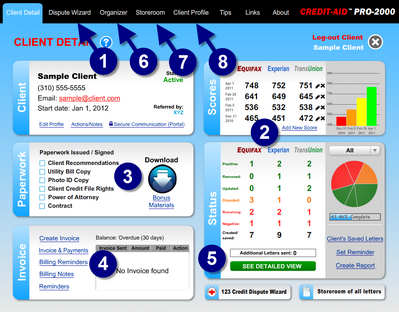 Key features of the Client Detail page:
1)Dispute Wizard is your starting point for every client.
2)Enter Credit Scores
3)Issue important paperwork and download bonus materials
4)Accounting and invoices
5)Dispute Status and Detailed View
6)Send secure notes and attachments to your client via the client portal
7)Organizer; calculator, credit diary, notes, record keeping and more
8)Storeroom of letters
9)Client Profile
10) View letters you've saved for this client, create reminders and reports.
11) Log out to work with another client.
---
This help file was created with an unregistered evaluation copy of Help & Manual. © EC Software. All rights reserved. This message will not appear if you compile this help file with the registered version of Help & Manual.